Cambridge Women vs University London Boat Club
By Tom Ransley
 Fixture season is well underway, and Cambridge's oarswomen will hope their season does not end how it began, losing to Oxford students. Two weeks on from their first official fixture against Oxford Brookes University Boat Club, the Light Blues were back on the Tideway, this time racing the University of London Boat Club [UL] over two half-distance pieces on the Championship Course. After a battering from Brookes, Cambridge were intent on rebuilding confidence, and instigating their learnings.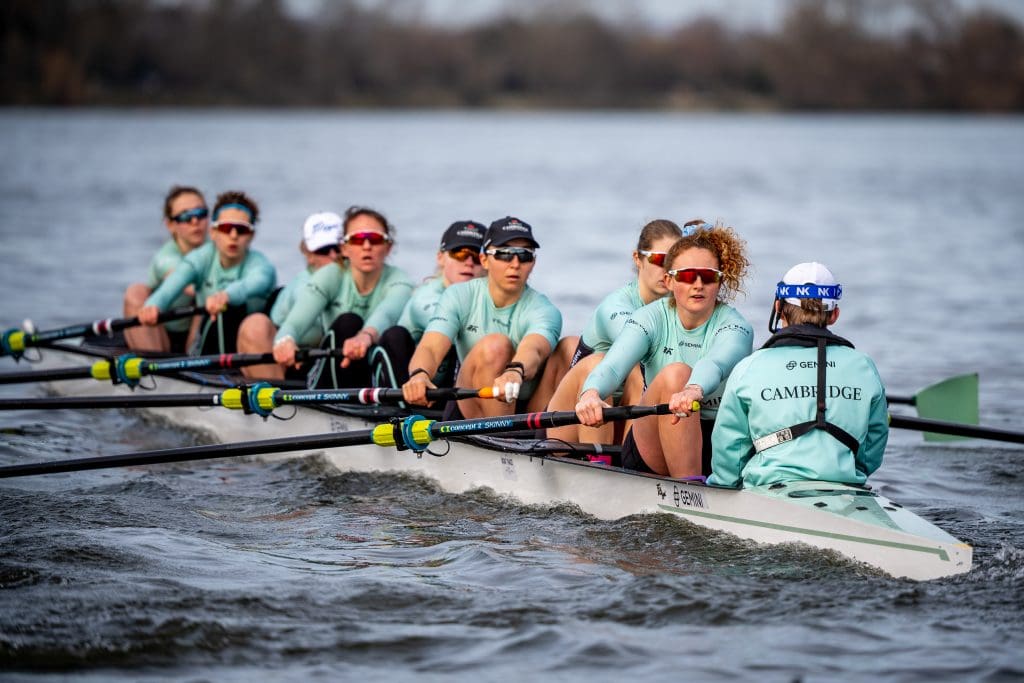 The first hurdle came before the start. Injury side-lined Cambridge's Claire Brillon, who raced for Canada at the 2022 World Rowing Championships and was slated to be at seven. The reshuffle saw Alex Riddell-Webster and Carina Graf move sternwards and Gemma King join the crew. "That's why we have Blondie," said CUBC Women's Head Coach Paddy Ryan referring to Cambridge's reserves. "Their job is to best support the Blue Boat. That's part of how we run things and they know that. It is nice when we have everyone [available to race] but we race with who we've got."
Despite the changes, racing was fierce. Cambridge got the cleaner start and, as the crews passed the Black Buoy, they were a canvas up on UL. With the advantage of the first Middlesex bend in their favour, the Light Blues slipped out to a three-quarter length lead. Forcing the rate, UL fought to maintain an overlap. As the crews raced along Crabtree Reach it was Cambridge who enjoyed the more powerful and cohesive rhythm. "You could see the relaxation and length to come out," Ryan noted, after his crew took the lead.
With a length lead, Light Blue cox James Trotman began looking for an opportunity move across and (effectively) close the race. He nudged towards Surrey, sending 'dirty water' puddles back to UL. A subplot between umpire and cox brewed. As Harrods Depository beckoned Trotman looked over his shoulder and, to the consternation of Umpire Matt Smith, decided to move across. "Red rag to an umpire, don't do it!" Smith later said. "You can't move across when you don't have clear water. If the crew behind were to tap into the crew in front that's a straight DQ [disqualification]."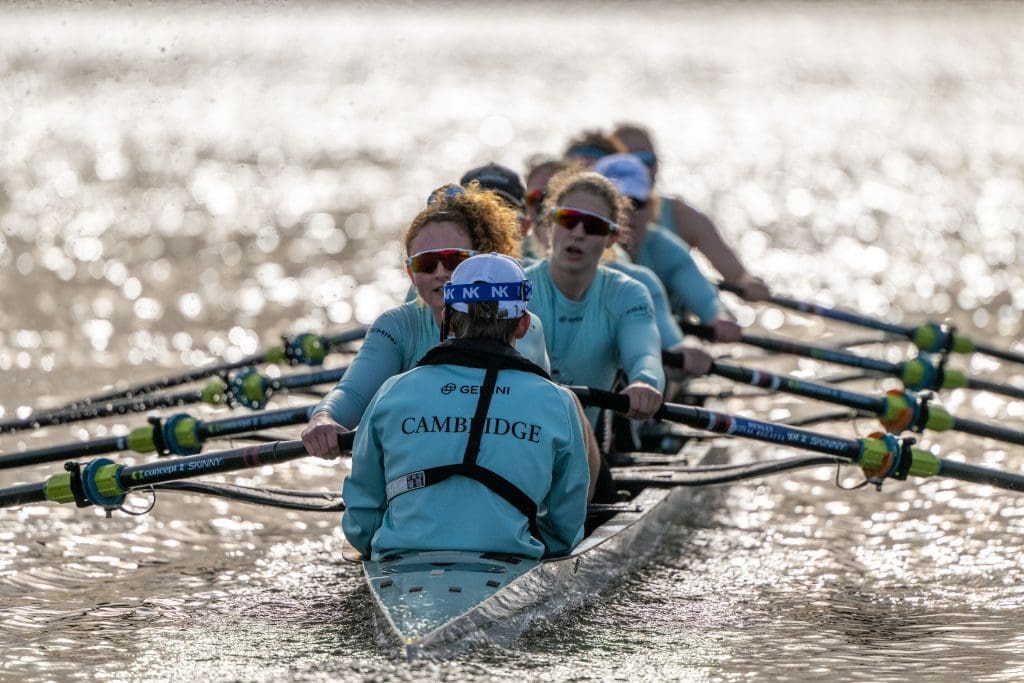 A barrage of warnings followed to which Trotman eventually yielded. "My crew definitely supported me in making that move," Trotman said after race. "The umpire is, obviously, going to warn me for what I did. Sometimes you've got to make moves, like that, to stay in front." Cambridge did stay in front.
Despite urgent and animated support from the UL coach, their last ditch spurt beneath Hammersmith Bridge failed to reel back Cambridge. The Light Blues rounded the outside of the Surrey bend and won by a verdict of 1L.
For the second piece the crews swapped stations, this time Cambridge were on Surrey. A slick, punchy start from UL did not unsettle the Light Blues. Within thirty strokes a confident Cambridge took the lead and continued to apply pressure to their opposition around the remainder of the Surrey bend. Another dogged row ensued. UL kept Cambridge honest. Despite the final Middlesex bend favouring the purple-cladded-oarswomen, UL steadily slipped out of contention. Cambridge secured another confidence boosting win.
Beating UL was a "more positive experience" than losing to Brookes, said Trotman. "We've stepped on massively," noted the Cambridge cox, who praised his crew's confidence and ability to, "get out in front and stay there". Adding, he might, "Look for a little bit more clear water" before moving across his opposition in the future.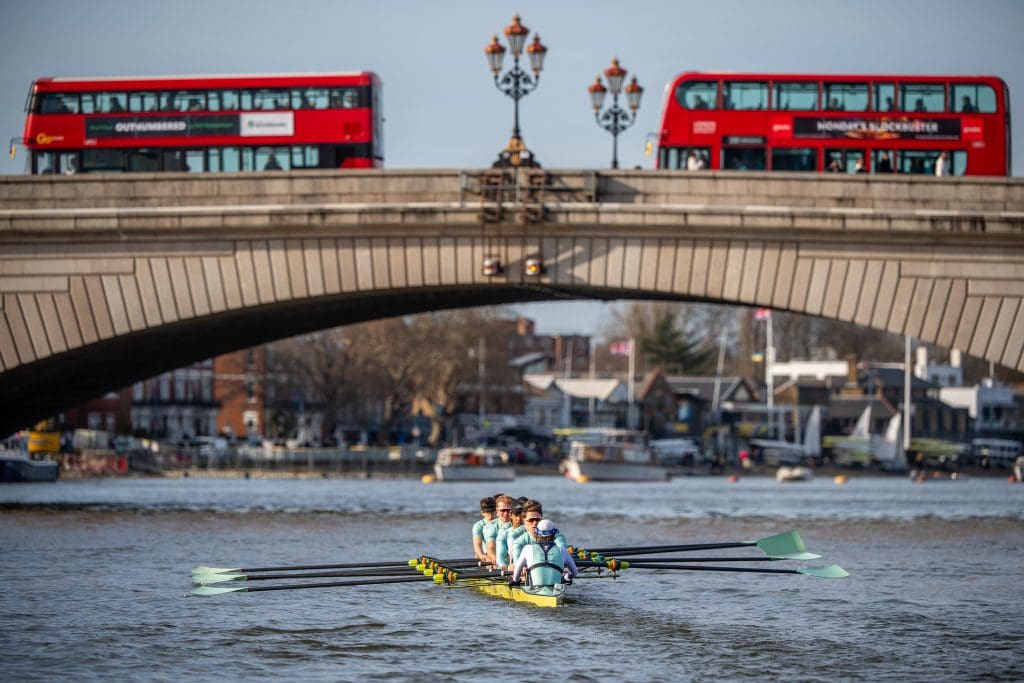 "It was a cool opportunity for us to see if the things we've worked on in training have solidified," said Freya Keto, five seat for Cambridge. The fixture helped Keto, "simulate the full atmosphere, environment and nerves of Boat Race Day". She added, "UL are a high quality opposition. We were able to use our length and technical changes to hold them off".
Coach Ryan was also (cautiously) optimistic with the improvements since racing Brookes. "UL are a very strong program. We made good strides but there are still some inconsistencies which we will reflect on." The next fixture has added interest for Ryan. Cambridge will race Thames Rowing Club, Ryan's former home as an athlete and coach.
Details of all The Boat Race Fixtures in the lead up to race day on 26 March can be found here.